Exeter Public Works Department - Help Us Put An End to Hunger!
Help us put an end to hunger!
Happy National Public Works Week! This year's theme couldn't be more appropriate. By working together as a community, the impact citizens and public works professionals can have is magnified and results in the ability to accomplish goals once thought unattainable! We are Stronger Together! The Exeter Public Works Department is joining hundreds of Public Works Departments from across New England to collect food and household goods to support our local community food bank needs. Our Fill-A-Public Works Truck Food Drive is occurring during National Public Works Week May 17-21, 2021, and will support the St. Vincent DePaul Community Assistance Center. Help us help our neighbors and friends. Food and goods donations are especially critical during the early summer months as schools get out; many children and families may get some assistance during the school year.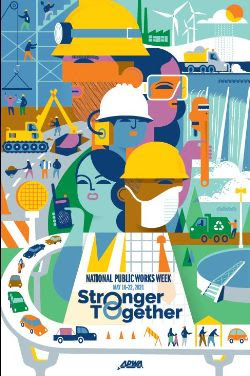 Monetary donations are also accepted through our events Go Fund Me page. All proceeds go directly to St. Vincent de Paul. Donations of any magnitude are greatly appreciated ($1 is equivalent to $50 of goods for SDVP)!
When: May 21st - 25th
Collection sites will be located at:
Public Works Complex
13 Newfields Rd
7 a.m. – 3:30 p.m.
Exeter Hannaford on Sunday, May 23rd 9am-12pm
141 Portsmouth Ave
Examples of items in need:
Coffee/tea

100% fruit juice

Canned fruits in natural juice

Low sodium nuts & nut butters

Canned fish, chicken or turkey

Canned soups, low or no sodium

Oats, rice and other grains-high fiber, whole grains

Tissues

Deodorant/Razors

Paper Towels

Shampoo/conditioner

Liquid hand soap

Dish detergent

Laundry detergent

Toilet paper

Hand sanitizer
On behalf of the Exeter Public Works Department, we thank you in advance for your support of this critical community need. Further questions on how you can help may be directed to Trisha Allen at 603-773-6166 or Publicworks@exeternh.gov.
Jennifer Perry Public Works Director