Alnoba August 2023 Leadership Newsletter
July 2023 Issue
Leadership Newsletter
"Break the rules. Just keep breaking them, keep making mistakes, that's how you're going to win.. you're going to keep learning. This world wants you in a box. The world is pushing you in a small box.
Break the rules."
- Alan E. Lewis -
Co-Founder, Alnoba
Dear friends,
We are very pleased to announce this year's recipients of our annual Alnoba Leadership Awards!
Alan Lewis, our founder, often said that finding courageous leaders was the hardest thing he ever did in his life. He knew that one could have all the passion in the world, but if they didn't have guts, they would never do something great.
These five leaders are bold and brave risk takers. Each making big strides towards environmental and social justice. We are proud to honor them and share their stories with you.
Best,
The Alnoba Team
ALNOBA EMERGING ENVIRONMENTAL ENTREPRENEUR AWARD
Franziska Trautmann
"It all began in a backyard… and the rest was history."
CEO | Glass Half Full
In 2020, Tulane University seniors Franziska Trautmann and Max Steitz were frustrated that the city of New Orleans did not have a glass recycling program. Their goal was not to reform the current system but to create their own glass recycling program, Glass Half Full, which converts trash glass into sand and glass cullet for coastal restoration, disaster relief, eco-construction and new glass products. It is still the only glass recycling program in Louisiana.
Born and raised in Louisiana, Franziska grew up hearing about the region's coastal erosion crisis and experienced the lack of recycling options. At Tulane, she was recognized by the chemical engineering faculty for outstanding performance and inducted into the national engineering honors fraternity.
She was able to apply her chemical engineering knowledge to create Glass Half Full. The process starts when her team collects glass waste through their seven drop off locations across the city and their residential ($22/month), business and event (Mardi Gras!) collection service. Next, they sort by color and remove all plastic and metal components. The glass is pulverized by hammer-mill crushers at their own facility, creating sand products ranging from super soft, beach-like powder to chunky glass gravel.
Glass Half Full sells their product for a variety of applications from flooring to disaster relief sandbags to flood damage mitigation. One hundred percent of their proceeds go to support their operation.
Glass Half Full collected more than 1.5 million pounds of glass in 2022 and diverted more than 3.3 million pounds of glass waste since their start. They currently divert tens of thousands of pounds of glass from NOLA's landfills every single week.
They partnered with the Pointe au Chien Indian Tribe to install glass gravel drains and a rain garden with native plants, deploying more than ten thousand pounds of recycled glass. In addition, they partnered with the Coalition to Restore Coastal Lousiana and U.S. Fish and Wildlife to repair a hurricane blowout zone at Big Brand Marsh National Wildlife Refuge using 20,000 pounds of recycled glass.
Franziska has only just begun and has set her sights on expanding their facility to process all glass in the state of Louisiana, as opposed to letting any of it end up in landfills. She hopes to expand their model to serve the entire Gulf South's vast recycling demands and use the sand they produce to benefit the community and the environment.
Check out the video above
"How Glass Half Full Recycled Over 1 Million Pounds of Glass in Two Years"
ALNOBA MOMENT OF TRUTH AWARD
Ruchira Gupta
"What would you do today, if you had to fight for your life tomorrow?"
Founder | APNE AAP Women Worldwide
For more than three decades, Ruchira Gupta has campaigned for a world where no girl or woman is bought or sold. Along with 22 courageous women in prostitution, she founded APNE AAP Women Worldwide, which is a grassroots Indian organization that empowers marginalized girls and women to resist and end sex trafficking. To date, she has helped more than 20,000 women and girls escape prostitution.
Ever since childhood, Ruchira wanted to be a storyteller just like her father. She especially wanted to write stories about girls who fix problems and so became a journalist. While on assignment in Nepal, she stumbled upon rows of villages with missing girls and asked the villagers where all the girls were. That question changed her life. She learned that little girls as young as twelve were smuggled across the border and sold into brothels in India. She related the story in a documentary, The Selling of Innocents, and won an Emmy for Outstanding Investigative Journalism.
As a journalist, she had covered famine and conflict, but had never witnessed such intimate violence and on this scale. Wanting to do more, she quit journalism and started APNE APP inside the red-light areas of India and began to work with the United Nations all over the world.
APNE AAP has two-pronged approach:
1. Reduce supply by increasing the choices before the weakest and most marginalized girls and women from red-light areas, including those trapped in intergenerational prostitution, and lower-caste communities and
2. Reduce demand by deterring the purchase of sex through policy and social change.
I Kick and I Fly is her debut fiction novel based on the true stories that she witnessed and experienced as an activist in APNE AAP. She has been given the French Ordre National du Mérite, Clinton Global Citizen Award, and the UN NGO CSW Woman of Distinction award among other honors for her contribution to the establishment of the UN Trafficking Fund for Survivors, the passage of the US Trafficking Victims Protection Act and her grassroots activism with APNE AAP. She has co-written a book with Gloria Steinem, As if Women Matter, and edited two anthologies, River of Flesh and Renu's Letters to Birju Babu.
Check out the video above
"Ruchira Gupta interview: Apne Aap Women Worldwide"
ALNOBA INTERNATIONAL INDIGENOUS LEADERSHIP AWARD
Celia Xakriabá
"And it doesn't matter if they bury us, because we are like seeds."
Founder | ANMIGA
Célia Xakriabá is a teacher, poet, and activist from the Xakriabá people in the Cerrado biome of Brazil. She is one of the founders of the National Association of Ancestral Indigenous Women Warriors (ANMIGA) and a leading member of the Indigenous women's movement in Brazil. She also helped to create the "Reforesting Minds" movement based on Indigenous ancestry and wisdom which advocates for a change in consciousness among the global public about planetary preservation.
Brazil's territory contains 60% of the Amazon, of which 21% has been destroyed, an area three times greater than the United Kingdom. Today's deforestation rate is pushing the Amazon to what scientists call a "point of no return," beyond which the rainforest won't be able to maintain its own climate and will turn into a dry savanna, emitting more planet-warming greenhouse gasses than it absorbs. This grim scenario is already playing out in heavily deforested parts of the Brazilian Amazon.
Since 2017, Xakriabá has spoken at various conferences and debates at universities in Brazil, promoting, among other things, advancing the status and rights of Indigenous women, land rights, education, and encouraging the revitalization of native languages in Brazil.
In 2015, Xakriabá became the first Indigenous person in the education department of Minas Gerais state. She held the position from 2015 to 2017. Xakriabá promotes an expansion of the inadequate educational system in Brazil to include teaching Indigenous history, land rights, and traditional knowledge that is shared collectively.
Her biggest dream is "to have the right to go back to sleep peacefully, because there are 523 years that Indigenous peoples don't have the right to go back to sleep in the tranquility that they deserve," referring to the more than half-millennium since the Portuguese conquest of South America in 1500.
Check out the video above
"Célia Xakriabá é liderança indígena, defensora da cultura e dos direitos dos povos
(Célia Xakriabá is an Indegenous leader, defender of culture, and people's rights)"
ALAN E. LEWIS MORAL COURAGE IN LEADERSHIP AWARD
Brad Campbell
"New England is poised to lead the nation in responding to climate change and emerging threats to our environment and public health. CLF has been the driving force in getting New England to this point. I am excited to lead CLF's smart and devoted advocates as we write a new chapter in protecting the region's natural resources, communities and future prosperity."
President | Conservation Law Foundation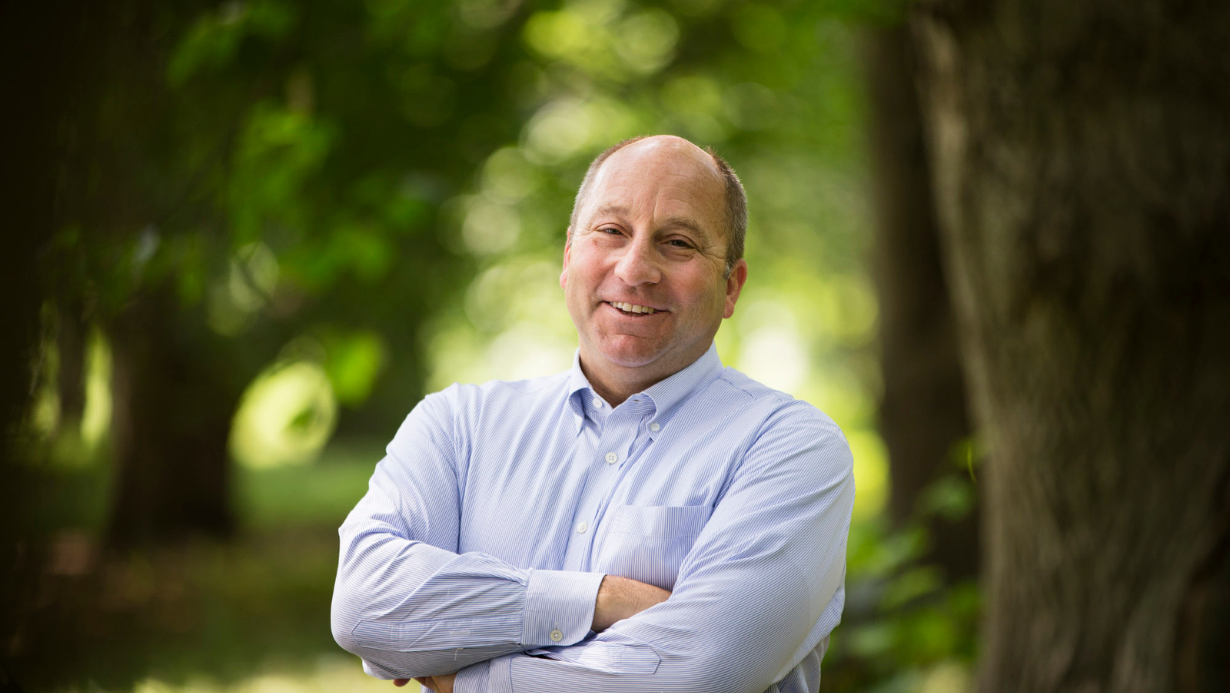 For more than 30 years, Bradley M. Campbell has been at the forefront of shaping the country's most significant environmental policies and laws. A former White House senior appointee during the Clinton administration, Brad was the regional administrator at the U.S. Environmental Protection Agency Mid-Atlantic Region and served as commissioner of the New Jersey Department of Environmental Protection.
Brad has a wide range of experience overseeing large public agencies, developing strategic litigation, and negotiating innovative agreements that have resulted in environmental milestones in New England and across the United States.
Under Brad's vision, the Conservation Law Foundation (CLF) has become a leader in the effort to address the root cause of climate change—greenhouse gas emissions from the burning of fossil fuels. Part of this vision has meant going after the "Goliaths" of the industry and CLF has taken on some of the biggest—ExxonMobil, Shell and Gulf Oil. Exposés by InsideClimate News and the Los Angeles Times confirmed that oil giant ExxonMobil knew as early as the late 1970s that climate change caused by human activities would be devastating if left unchecked.
Shortly after Brad started his tenure at Conservation Law Foundation, he made the brave decision to hold "Big Oil" accountable. CLF started its own investigation into how climate deceit has affected New England communities. Their investigation revealed that despite knowing the harm climate change could cause, ExxonMobil, Shell and other companies left their oil storage facilities in areas vulnerable to flooding from storms and rising seas.
This failure to act put local communities at risk of catastrophic releases of oil and hazardous substances—events more and more likely given the extreme weather and bigger storms already experienced by New Englanders every year.
To hold ExxonMobil accountable for its inaction, CLF launched the United States' first legal action against the corporate giant for its climate deceit and for clean water act violations at its oil storage facility in Everett, which sits on the Mystic River. Last year, Exxon Mobil closed their facility.
Today, Brad and his team press on. Their climate deceit litigation against Shell Oil in Rhode Island was the first major climate adaptation litigation against a major oil company to move past a motion to dismiss and is now the first such case to be scheduled for trial.
Check out the video above
"CLF: Looking Back on All We've Accomplished, Together"
ALNOBA CEO ENVIRONMENTAL LEADERSHIP AWARD
Briana Warner
"Do good – even when cutting corners would be easier. And eat kelp, of course."
CEO | Atlantic Sea Farms
Atlantic Sea Farms was founded in 2009 as a way to offer fresh, healthy alternatives to imported seaweed, diversify income for fisher families and grow kelp as a climate adaption strategy. At that time, 98% of seaweed was imported, mostly from Asia where there is little-to-no environmental regulations.
In 2018, Briana Warner took over as chief executive officer and transformed the company from the first commercially viable seaweed farm in the country to a kelp aquaculture company that is winning food industry awards and increasing consumer knowledge of kelp as a climate-positive ingredient, as well as supporting Maine's working waterfront. Products include jars of seaweed salad and kelp kimchi, frozen cubes of kelp for smoothies, and ready-cut frozen kelp.
Briana believes good food should do good, so she made the shift at Atlantic Sea Farms from growing their own kelp to partnerships with Maine fishers because she felt they knew the waters better than anyone and have the necessary equipment. In addition, the change would allow her team to focus on a move to retail product line and marketing.
Last year, Atlantic Sea Farms harvested just under one million pounds of kelp—their largest harvest ever—with plans to increase production this year. Compare that to 40,000 pounds in 2019. Atlantic Sea Farms produces 80% of US-grown seaweed. The company employs 16 direct employees and works with 30 small fish-farmer family businesses.
Briana started her career as a diplomat in the United States Foreign Service including service in Guinea for the country's first democratic election. After moving to Maine, she founded Maine Pie Line, a beloved Portland bakery that employed newly settled refugees. After selling the pie business, she joined the Island Institute where he helped fishers diversify into different forms of aquaculture.
In addition to receiving the 2023 Alnoba CEO Environmental Leadership Award, Briana and the Atlantic Sea Farm team has been recognized with the Fast Company's Brands that Matter Award as well as the Governor's Award for Business Excellence, a Heritage Industry Award and a NEXTY Award for Best New Product Supporting a Plant Based Lifestyle.
Check out the video above
"From Sea To Sweetgreen"
Check out this video from last years awards!
We've always believed that strong leaders make stronger communities. We face very real and very urgent threats to our planet. Now, more than ever we need strong activists' leaders. We need their grit, guts, smarts and heart. We need their example. For more than 40 years, we have worked with some of the best leaders in the world on behalf of our beautiful planet. We launched the Alnoba Leadership Awards to honor brave and brilliant leaders whose courage, wisdom or potential inspire us to act more boldly for environmental justice.
We encourage you to read about the awards and click to learn more about the extraordinary men and women we've been privileged to honor over the years.